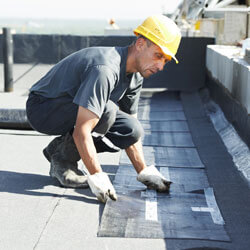 A roof that is nearly flat or just slightly pitched for water channeling is called a low-slope roof. No roof should be truly "flat" – though it may appear from the ground to be flat. Every roof should have a intentionally designed slight slopes for drainage. Most often low-slope roofing is used in commercial buildings. Problems are common and more difficult to diagnose with low-slope roofing because the leak area is often not directly located where the water is appearing inside the building. The roof should have NO areas of standing water. Standing water on a roof can be caused by sagging or rotted roof decking or improper drainage design.
Bella Vista General Contractor has been fixing and installing low-slope commercial roofing for decades. We've seen and fixed many interesting issues on the various rooftops of buildings! Old buildings, new building construction, retro-fit, you name it, when it comes to low-slope roofing, we've seen it and fixed it…and with outstanding results. We have very strong relationships with the top commercial roof manufacturers. Our experience and long history of quality work provide you with unparalleled quality and guarantees.
Get the best guarantees, quality and value from Bella Vista General Contractor, Your #1 choice for commercial roofing projects.
Call Bella Vista General Contractor today for a free estimate on flat roofs.